AeroCAD
REMAK design program = AeroCAD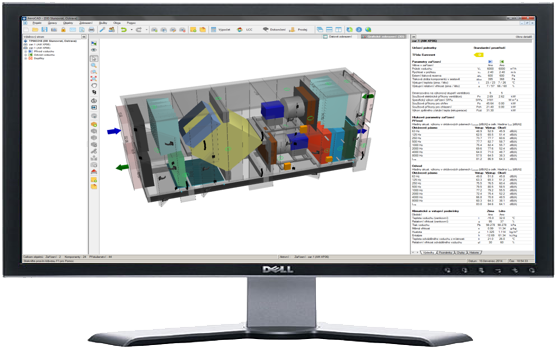 AeroCAD is a very powerful tool enabling the fast and error-free design of air-handling units and the calculation of all aerodynamic and thermodynamic parameters. In addition, it also enables control systems to be easily designed along with REMAK air-handling devices, which makes it an unrivalled tool within the industry.
MAKING THE DESIGNER'S WORK EASIER
The AeroCAD program generates 2D or 3D models of the designed devices to be used for the project's purposes in the DXF format for direct import to CAD-based programs.
Due to the increasing demands on BIM-compatible outputs. AeroCAD newly support export to the most common data exchange format, see section BIM SUPPORT.
The AeroCAD program also generates technical specifications, containing all the important information about the designed devices in the project.
CORRECT RESULTS ALWAYS 
The AeroCAD program has been recognised by EUROVENT, the most prestigious European certification. Thanks to this, users can always be certain they will obtain actual and reality reflecting results of the calculation.
AVAILABLE FOR FREE DOWNLOAD
AeroCAD can be downloaded for free, which will certainly be appreciated not only by designers but also by secondary school and university teachers and students.
BIM SUPPORT
We have focused on the world's most popular BIM platform - Autodesk Revit. We have linked our AeroCAD design application to Revit using an open IFC file format that can be opened in any other program that supports BIM processes (Allplan, ArchiCAD, etc.).
REMAK Revit plugin is required for correct import to Autodesk Revit.