Measuring Gauge Location and Description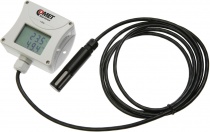 Measuring Gauge
The T7511 temperature, relative humidity and atmospheric pressure sensor with Ethernet output from COMET SYSTEM, s.r.o. is used to measure temperature, relative humidity and pressure. The sensor consists of an external temperature and humidity probe, which is connected via a cable to the control electronics.
This device enables the measured data to be transferred, displayed and presented in several ways. In this case, the SOAP protocol is used and measured data are sent every 5 minutes to the server for processing.
Sensor Location
The electronic control unit connected to Ethernet is situated in the weather station located on the Remak premises. The probe is located at altitude of 362 m. above sea level.
Locality
The measurements are performed on the outskirts of the industrial area in Rožnov pod Radhoštěm. This locality lies in the foothills of the Beskydy Mountains and is a colder and quite rainy climatic region. For more information about this location, visit Beskydy.cz.
Collected Data
The measuring device collects pressure, temperature and relative humidity data. These data are used by the server to calculate additional date determining the air state, i.e. specific humidity, absolute humidity, dew point temperature, wet thermometer temperature, air specific density and enthalpy. The data are stored in the archive in several time averages.